RIDGEWAY BATTLEFIELD TOUR WITH PETER VRONSKY
Saturday, September 8, 2012 (11:00 a.m. start * RAIN OR SHINE *)


Tour meets in the parking lot of the Battle of Ridgeway Cairn Monument
East of Ridge Road N. on Highway #3 (Garrison Road)
at 11:00 A.M. See Google Map below for detailed directions.

The tour is free-of-charge in honour of the citizens of Ridgeway and the volunteers of the
Queen's Own Rifles (QOR) and Royal Hamilton Light Infantry (RHLI)
who gave their lives in the defense of Canada in June 1866.


---






www.ridgewaybattle.ca



Dr. Peter Vronsky is a historian and the author of Ridgeway: The American Fenian Invasion and the 1866 Battle That Made Canada recently published by Penguin Books. He recently earned his Ph.d. in history at University of Toronto specializing in the history of espionage in international relations and criminal justice history. Ridgeway was originally his doctoral dissertation at U. of T. on the hidden history of the 1866 battle and his book is the first book-length study of the battle and its consequences published in over a hundred years since 1910.

The tour begins at 11:00 a.m. at the Ridgeway Battlefield Cairn Monument (see Google Map ) and lasts approximately one hour. Peter Vronsky will be available for book signings after the tour at Lakeside Books & Art, 341 Ridge Road North in the town of Ridgeway, Ontario from approximately 12:30 p.m.





View Larger Map




RIDGEWAY HISTORIC BATTLEFIELD MAPS

[ VIEW ]

[ VIEW

[ VIEW ]

[ VIEW ]

VIEW

VIEW

[ VIEW ]
Ridgeway 1866
Terrain Map

Fenian Positions
Ridgeway 1866
7:00 -

7

:

3

0 A.M.
Battle Map 1
Ridgeway 1866
7:

3

0 -

7:45

A.M.
Battle Map

2


Ridgeway 1866


7:45

-

8:00

A.M.
Battle Map

3


Ridgeway 1866
8:00 -

8:15

A.M.
Battle Map

4


Ridgeway 1866
8:

15

-

9:30

A.M.
Battle of Fort Erie
4:00 - 5:30 P.M.
Visit www.ridgewaybattle.ca for more on the 1866 Battle of Ridgeway, www.fenians.org on the Fenians,
and www.ridgewayreads.com for festival events and ticketing detail.
---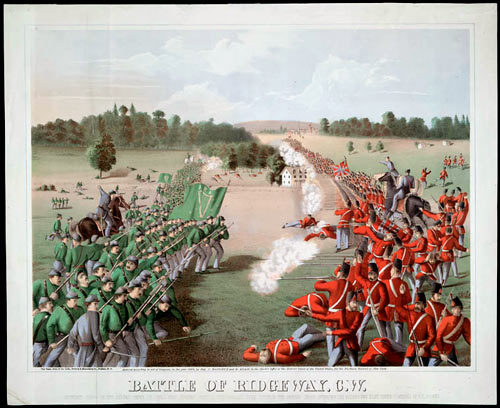 Canada's first modern battle was fought on June 2, 1866 near the village of Ridgeway during the Fenian Raid on Canada. One thousand Irish American Fenian insurgents, mostly veterans of the recent American Civil War, invaded across the Niagara River at Fort Erie, Ontario, from Buffalo, New York. The objective was to take Canada hostage in a bid to expel the British monarchy from Ireland and establish an independent Irish republic. The Irish insurgents crossing at Fort Erie were the vanguard of a planned 20,000-strong Fenian army preparing to invade along numerous points of the US-Canadian border.

As the Fenian force at Fort Erie threatened to take the nearby strategic Welland Canal, 841 Canadian militia troops fought approximately 700-800 Fenians on Limestone Ridge in Canada's first battle fought in the modern age of telegraph, steam engines and the rifled barrel, the first fought exclusively by Canadian troops and led entirely by Canadian officers and the last battle fought against foreign invaders in what would become Ontario. It was also an unmitigated disaster of such proportions that the history of the Battle of Ridgeway was covered up so thoroughly that few Canadian today have heard of it.

What happened at Ridgeway, how and why it was covered up, who were the Fenians, why did the Irish invade Canada in 1866, and did the United States secretly back the invasion, are some of the subjects historian and author Peter Vronsky will discuss during the tour.